Wooden Tennis Scoreboard [Freestanding]
Wooden Tennis Scoreboard [Freestanding]
Traditional Green Wooden Tennis Scoreboard – Simple Match Scoring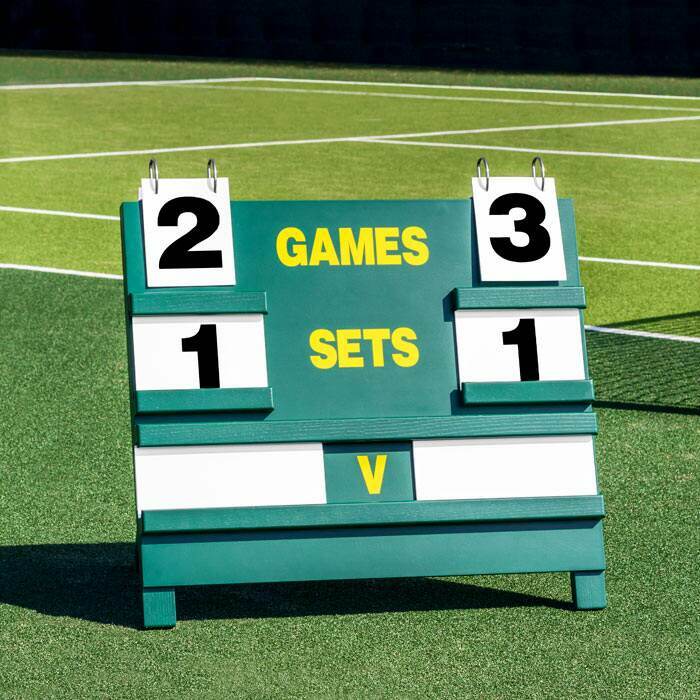 High-Vis Number Cards
The number cards have been designed with supreme visibility in mind. Featuring bold, black numbering on an optic white background, players & spectators will be able to see the score from distance.
Simple Storage
Unique to other scoreboards, this traditional wooden tennis scorer can be folded completely flat. The easy-fold design ensures storing & transporting the board in between matches is the simplest of tasks.
Freestanding Scoreboard
The benefit of this wooden tennis scoreboard is its freestanding nature. Suitable for any tennis court surface & 100% portable, this impressive scorer will enhance the quality levels of any court it graces.
Description
Professional Wooden Scoreboard For Your Tennis Court
Players being able to update the score at the change of ends has never been so simple thanks to this freestanding tennis scoreboard. This high-quality tennis court accessory features high-visibility numbers to allow players and spectators to keep track of the match score from all areas of the tennis court. Innovatively designed, this tennis scorer can be folded completely flat in order to aid portability and storage exceptionally well.
Freestanding Wooden Scoreboard – Traditional Green
Size: 25in x 20in
Simply score sets & games
Features blank cards for player names (marker pen included)
Crafted from treated wood for supreme durability
Can be folded completely flat for easy storage & transportation
Suitable for any tennis court surface (indoors & outdoors), this tennis scoreboard features an elite construction to ensure maximum durability. The board, which has been expertly-crafted using treated wood, features premium metal fixings designed to easily cope with the demands of regular use. The high-vis optic white games & sets cards with bold, black numbering are manufactured using ultra-heavy-duty plastic for outstanding longevity.
PLEASE NOTE: The professional Wooden Tennis Scoreboard can be used on indoor & outdoor tennis courts. For maximum longevity, we recommend storing your scoreboard indoors when not in use.
Specifications
Freestanding Wooden Tennis Scoreboard Specifications
Dimensions:
Size: 25in x 20in | 64cm x 52cm
Materials:
Scoreboard: Treated Wood
Number Cards: Heavy Duty Plastic
Fixings: Premium Metal
Miscellaneous:
Scoreboard features an easy-fold design for simple storage & transportation
Completely freestanding – suitable for any tennis court surface
Flip numbers (games), number cards (sets), blank name cards & marker pen included
Heavy duty metal fixings included
For maximum longevity we recommend storing indoors when not in use
Want to chat?
Contact us here and we'll get back to you as soon as possible.
Buy today, play tomorrow
Order by 9pm for next day delivery
Questions & answers
Ask fellow customers what they think!
Hide Q&As
Questions & Answers
No one has asked a question yet!
You may also like
Tennis Post Scoreboard
$80.99
Fence Mounted Tennis Scoreboard [3 Sizes]
$129.99